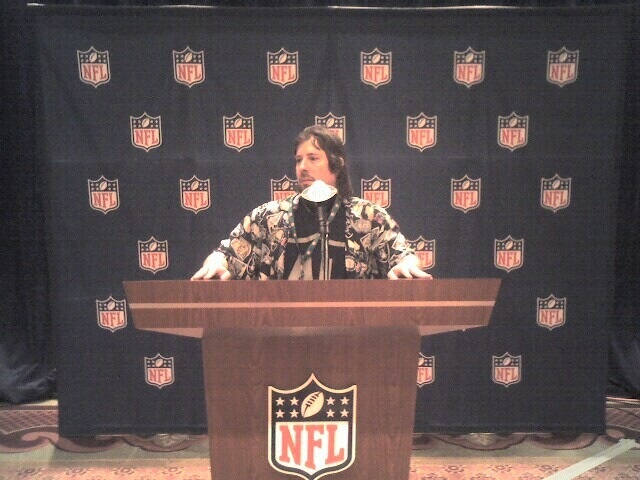 NFL 2012 Owners Meetings–My Press Conference
Here is my "press conference" at the 2012 NFL Owners Meetings in Palm Beach, Florida.
http://communities.washingtontimes.com/neighborhood/sports-around/2012/apr/1/my-press-conference-2012-nfl-owners-meetings/
Thank you all for coming. It's good to see you all get together because of the game we love. About an hour ago, NFL Competition Committee Chairman Rich McKay discussed some proposed rule changes that should increase competitive balance. In an hour Commissioner Roger Goodell will discuss player safety in the wake of the New Orleans Saints bounty situation.
I am here to talk to you as a fan who loves the National Football League. Over the last few hours I have met with about half of the coaches, and some of the owners and general managers. While the ultimate goal is victory on the football field, the fans have a right to know about the real people they see on their television sets. As you all know, I am a proud member of the Raider Nation. For those expecting unbiased remarks, feel free to stick around for Commissioner Goodell. As for my observations, I'll start with the owners and executives.
The newest owner is Shad Khan of the Jacksonville Jaguars. Born in Pakistan, he is an American success story. While most foreigners prefer futbol to football, Mr. Khan had the foresight to realize what most people born in America already understand. Soccer is boring. Nobody here cares about it, nor should they. Mr. Khan loves American football, and is an asset to the league. He is a friendly, gracious individual who the fans have already taken a liking to.
Indianapolis Colts Owner Jim Irsay saw his stable organization collapse in a miserable 2011 season with injured Peyton Manning on the sidelines recovering from neck surgery. After the season President Bill Polian and Coach Jim Caldwell were fired. Mr. Caldwell, who possibly has never made a facial expression, reacted calmly in an expressionless manner to the news. The truly emotional moments occurred when Mr. Irsay announced the release of Manning. Mr. Irsay was a model of class and dignity in his tearful press conference with Mr. Manning. Mr. Irsay was very generous with doing interviews, and I asked him only a couple of questions.
I wanted to know if he felt that the Saints bounty scandal affected the 2009 Super Bowl, and if he now goes back and watches the tape, thinking his team should have won it all. Mr. Irsay again was classy. He praised Tracy Porter for making a great interception near the end of the game to seal the win. He also pointed out what an outstanding quarterback Drew Brees. He felt the Saints deserved the win.
I also asked him that in the wake of the Peyton Manning situation not working out, if he had it to do all over again in 1998, would he have instead drafted Ryan Leaf. He responded "That is a bizarre question," and added "I would have to say…no." Despite being the biggest bust in NFL history, Mr. Leaf was still available to be hired. Mr. Irsay complimented my very stylish fedora and said "still no to Leaf."
(Several days later Ryan Leaf was arrested for burglary and drug possession on Montana. Any team thinking of hiring him now will probably take a pass. I was in Montana at the time but was uninvolved. As a Raider fan, I do not hang out with ex-Chargers. They just cause trouble.)
Philadelphia Eagles Owner Jeffrey Lurie has been a model of consistency. Last year, despite a disappointing season, he decided not to blow up his organization. The Oakland Raiders have suffered from instability in recent years, and the Eagles have been a model of consistency. Continuity is vital to success in any business, and Mr. Lurie clearly understands this.
Carolina Panthers Owner Jerry Richardson is the epitome of a true Southern Gentleman. Despite having a pair of black panther statues outside his stadium, Mr. Richardson is not a member of the New Black Panthers. The New Black Panthers have issued a bounty on some fellow involved in a tragic street fight having nothing to do with football. The New Orleans Saints were sanctioned for issuing bounties as well, with Cam Newton of the Carolina Panthers being one of the targets. Yet despite what appear to be links, neither the Carolina Panthers or Mr. Richardson have been accused of any wrongdoing or issuing any bounties on anyone.
Mr. Richardson introduced me to his entire management team. I thanked him for hiring Quarterback Kerry Collins back in 1995. Mr. Collins in 1996 helped the Panthers finally knock off the San Francisco 49ers, an insufferable bunch of elitist football players if there ever was one. When it came time to take a picture, Mr. Richardson asked his secretary to work the camera. He jokingly pointed out that he wanted it done right, as his management team laughed. Everybody knows that secretaries control everything anyway.
New England Patriots Owner Robert Kraft still has a heavy heart. The Super Bowl loss was less painful than the loss of his beloved wife Myra. I let Mr. Kraft know that I was Jewish, and that I appreciated Mrs. Kraft's lifelong dedication to Jewish causes. She even took some of the players to Israel in 2008. I wished Mr. Kraft a peaceful Passover. Forgetting football momentarily, from one Jew to another, I gave him a hug. I also pointed out that despite my deep respect for his family, I still would not ever be at peace with the "Tuck Rule." He noticed I was a Raider fan, and I pointed out that even Raider fans have human compassion.
2011 was a tough year from a death standpoint for several football families. With the passing of Al Davis, the torch of the Silver and Black has been passed to his son Mark. Mark is a great guy, and he is committed to keeping the team and seeing it succeed. Mark Davis as you know is not his father, who ran every aspect of the organization from top to bottom except for maybe the Raiderettes. Mark has entrusted new General Manager Reggie McKenzie to make all football decisions.
One thing I expressed to Mark Davis was that when I see young talented players like Denarius Moore and Jacoby Ford, people need to remember that these were some of the final Al Davis draft picks. Those who want to lambaste Al Davis for the JaMarcus Russell pick should give him credit for superstars like Darren McFadden and other solid players.
A for Mr. McKenzie, I met with him a couple of times. For starters, he is a very big man. He is gigantic. He speaks softly, but his big stick came from Green Bay and immediately started whacking away at various parts of the organization. Within five minutes, people knew he was serious. He hired Dennis Allen to coach the team, and has already cut several player with bloated contracts. The Raiders are in salary cap hell right now, but Mr. McKenzie is going to build the roster his way. His initial decisions seem very sensible. Mr. McKenzie did not say whether or not he would personally play on the offensive or defensive line if a starter gets injured. Again, Mr. McKenzie is a very big man.
Another very big man is Mike "Walrus" Holmgren, the President of the Cleveland Browns. While he did stop to do a radio interview, he was not into chit-chatting. He takes these meetings very seriously.
In addition to running the Competition Committee, Rich McKay is also the General Manager of the Atlanta Falcons. Most importantly, he is the son of the late legendary coach John McKay. Rich McKay was part of the only Tampa Bay Buccaneers squad to win it all in 2002, while his father was part of the expansion team that lost it all in 1976. Yet while Rich McKay still deeply misses "the coach," I pointed out to him that his father's quotes will live on forever. John McKay's best quote after a miserable loss came when he was asked about his team's execution. McKay responded, "I'm in favor of it."
Denver Broncos President John Elway still has no love for the Raider Nation. While he was polite, he was not going to show AFC West opponents any mercy. I explained to him that the decision to bring Peyton Manning to Denver meant the Broncos could beat up on the Raiders for the next five years. He proudly claimed "That's the plan." All I could say was "I wish you wouldn't." Raider fans have always thought John Elway was demonic, and he walks with a limp very similar to "Kaiser Sose" from "The Usual Suspects." Like the Kaiser, with Elway it is not personal. He is all business.
Buffalo Bills Manager Buddy Nix both saw our stress levels go through the roof with the 2012 Week 2 contest between the Bills and Raiders in Buffalo. The Raiders led 21-3 at the half until five touchdown passes in the second half sparked a 38-35 Bills win. The final Hail Mary took ten minutes for the officials to figure out who caught it. Raiders receiver Denarius Moore did get his hands on the ball, but there would be no 42-38 Raiders win. As I said to Mr. Nix, "Moore caught it, but the defender caught it more." The interception stood. I also let Mr. Moore know that I preferred losing this way than the 51-3 thrashing Jim Kelly and the Bills put on the Raiders in 1990. Mr. Nix knows he has a young, improving team, although winning 51-3 is not expected any time soon.
I met Tampa Bay Buccaneers General Manager Bruce Allen at the same time as Washington Redskins Head Coach Mike Shanahan. They both had those titles with the Raiders, although Shanahan as you know crossed over to the dark side and joined the Broncos. I covered my meeting with both of those men earlier, and you all should have a copy of that report. If you don't, it will be provided again soon enough. They are both very likable guys.
Bears Head Coach Lovie Smith is a shining example of how a man can succeed on the sideline without being a screaming, raving lunatic. He wins games the right way. Like his former boss Tony Dungy, Lovie Smith has been called soft. You don't coach Brian Urlacher by being soft, ending that ridiculous train of thought.
Newly hired St. Louis Rams Head Coach Jeff Fisher is back after taking one year off following 16 seasons coaching the Tennessee Titans. Coach Fisher was part of one of the most poignant moments in Super Bowl history that may never be disclosed. The final play in 1999 saw the Titans come up one yard short against the "Greatest Show on Turf" Rams. Fisher got down on one knee and whispered words into the ear of his crestfallen quarterback, Steve "Air" McNair. Fisher most likely told McNair that he loved him and was proud of him. McNair died tragically a few years back on July 4th, but he and Fisher will always be part of football lore. The image of those two warriors remains frozen in time.
Philadelphia Eagles Head Coach Andy Reid is one of the nicest guys on the planet, in addition to being an excellent football coach. He has had a turbulent few years in his family life, due to struggles involving a couple of his sons. He genuinely appreciates prayer for his family, and his sons are doing much better.
Romeo Crennel just became the Head Coach of the Kansas City Chiefs with three games left in the 2011 season. His players fought very hard for him, winning two of those games. One of the wins came against previously unbeaten Green Bay, who finished the regular season 15-1. The Chiefs only loss in those three games came against the Raiders, when Richard Seymour blocked a Kansas City field goal on the final play of regulation.
Crennel is a very likable guy. He is not used to hearing kind words from the Raider Nation, but he is an easy guy to like and respect. He is a good man who obviously has his players fighting hard for him. I told him that I understood the tradition of the Raiders-Chiefs rivalry dating back to Art Shell and Buck Buchanan (before I was born), and that he was going to add another layer to that rivalry. He was very gracious in understanding that I would not be rooting for him once the Raiders played the Chiefs. Guys like Crennel make football fun.
Texans Head Coach Gary Kubiak should be given a ton of credit for the 2011 season. Many teams in the league saw devastating injuries derail their seasons. The Bears, Raiders, and Chiefs all eventually collapsed with backups at key positions. Yet despite Kubiak losing starting quarterback Matt Schaub, backup quarterback Matt Leinart, and star pass rusher Mario Williams, the Texans made the playoffs for the very first time. They even won their division and one playoff game.
Falcons Head Coach Mike Smith looks like a guy named Mike Smith. He could be the poster child for "Average Non-Descript Caucasian Monthly" Men's Magazine. He is also a winner despite not winning a playoff game yet. The Falcons in four decades had never had two consecutive winning seasons in a row before his arrival. In his four years at the helm the Falcons have had winning seasons every year, including a top seed one year. Three of those four years they made the playoffs, and that trend should continue.
New York Jets Head Coach Rex Ryan absolutely looks like a football coach. He seems to have his swagger back, and his gut still hangs out when he walks. He was in a workmanlike mood, and did not have time to sign autographs. Yet when a Jets fan approached him, he stopped what he was doing and did exactly that, in addition to taking pictures. Rex Ryan is another guy who makes football fun, and the league is better off when his bold talk is backed up on the field.
San Diego Chargers Head Coach Norv Turner is a good guy who is constantly under fire. While I have been critical of Mr. Turner in the past, I complimented him on the last game of this regular season. The Chargers had nothing to play for, and they went into Oakland and knocked the hated Raiders out of the playoffs. I told Mr. Turner that before the game, this was shaping up to be Norv's revenge. The Raiders fired him several years ago, and once again a former Raiders coach would exact retribution at the worst possible time for fans of the Silver and Black. After that game Turner kept his job while the coach of the Raiders did not.
Patriots Head Coach Bill Bellichick, to quote former Minnesota Vikings Head Coach Dennis Green, is exactly who we thought he was. Bellichick came across as one of the least likable people in sports, and definitely the least likable guy I encountered. In the hallway, he spent an hour talking with new Tampa Bay Buccaneers Head Coach Greg Schiano. While Bellichick has plenty of wisdom to offer the rookie coach, his manner with others is less than admirable. One fan waited an hour to take a picture with him. When Bellichick wrapped up his conversation and the fan made his request, Bellichick walked right past him and said "no thank you."
I walked with Mr. Bellichick for a few moments, and wanted to see if he had a good side worth getting on. I pointed out as a Raider fan that the controversial game between the Raiders and Patriots never should have come down to the "Tuck Rule." If Raiders running back Zack Crockett converts on 3rd down and 1, the Raiders run out the clock and the game is over. Patriots defender Brian Cox blew up the play. That was the game, and had Cox been blocked better, their would have been no Tuck Rule. Coach Bellichick looked at me and said, "You're right, that's right." Then he kept on walking. He does not get paid to be warm and fuzzy. He gets paid to win games. Perhaps he was in a bad mood that self-serving political hustelers were stealing his "Hoodie" look to make some political statement. I never got to ask him.
Baltimore Ravens Head Coach John Harbaugh was the first person I met upon arriving. I congratulated him on a great season, with his team coming up just one play short of the Super Bowl. He was classy enough to point out that another guy standing near him also was in the same boat. I looked over and there was San Francisco 49ers Head Coach Jim Harbaugh. The Harbaugh brothers are good guys, and they were the first of many people taking pictures with others.
Green Bay Packers Head Coach Mike McCarthy deserves to be congratulated on a great 2011 season, although his 15-1 squad were soundly beaten in the playoffs. He preferred the 2010 season, where his team only went 10-6, but then went on to win it all. Coach McCarthy is a friendly guy. I let him know that my coed touch football team won it all. I am two years younger than Brett Favre and come with less drama. If he needs a backup quarterback to Aaron Rodgers, I am prepared. I flexed for him, although as of yet I have not been invited by him or any other coach to training camp.
Seattle Seahawks Head Coach Pete Carroll is exactly as he comes across, and that is a good thing. I am a USC Trojan, and attended the school when he was winning championships. Mr. Carroll is frequently criticized for being too much of a cheerleader, jumping up and down on the sidelines. Football is a game. It is supposed to be fun. He should absolutely keep cheerleading, and he assured me he was never going to stop cheering. He loves the game, and is proud to show that.
Cincinnati Bengals Head Coach Marvin Lewis is nothing short of a miracle worker. The Bengals were a pathetic organization for well over a decade before he arrived. He deserves praise for not throwing in the towel and retiring somewhere away from the insanity.
I just missed meeting new Oakland Raiders Head Coach Dennis Allen. He did a 15 minute interview with Sirius NFL Radio, and I had the misfortune of showing up only a couple of minutes after he departed. Mark Davis has confidence in Reggie McKenzie, who in turn believes in Dennis Allen. As of now, Allen has never lost a game with the Raiders. The last Broncos assistant to coach the Raiders was Mike Shanahan, which tells Raider fans absolutely nothing.
Beyond all the employees of the NFL, a couple of other members of the NFL family made for a positive NFL experience at these meetings. NFL reporter Adam Schefter  has not always been loved by the Raider Nation, but claims of him having an anti-Raider bias are simply false. He is tough, hard-hitting, and fair. He is aware about charges of bias, and those charges are completely meritless. He is a solid and honest reporter. He is also a fellow Jew, so I wish him a Happy Passover.
The main aspect of these meetings was to ensure that the NFL remains an honest game. One important individual at these meetings who has overseen this task is former Head of Officiating, Referee Mike Pereira. Mr. Perreira is now an NFL analyst who specifically comments on officiating decisions. Mr. Pereira as a person is friendly and very fun to converse with. As a referee and analyst, he is ultra-professional and serious about getting the calls right.
Naturally, I had to ask Mr. Pereira about the Tuck Rule. His opinion is that "They got the rule itself right, but it was a terrible rule."
This concludes my personal remarks. I will not be taking questions since Commissioner Goodell will be here momentarily. At the risk of preempting his remarks, I can safely say from an NFL standpoint that the State of the National Football League has never been stronger. It remains the king of all sports for a reason. It has great people at every level of the game.
See you all in six months for the kickoff of the 2012 NFL season. May God bless the United States of America and the National Football League.
eric