Shock and Awe has just entered the 2008 Presidential campaign in the form of Arizona Senator John McCain choosing Alaska Governor Sarah Palin as his Vice Presidential nominee.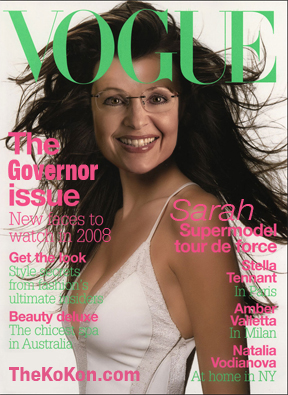 The coldest state has brought America the hottest Governor.
The Tygrrrr Express arrived in Minneapolis, Minnesota, for the 2008 Republican Convention. The Chicago Cannonball is joining me just long enough to go to the great Mall of America. Then I will get down to the business of blogging from the 2008 version of "Repub Hub." It will be a fabulous experience thanks to John McCain choosing the phenomenal Sarah Palin as his Vice Presidential Nominee.
First I would like to give credit to the news organizations that put out the headline that is bound to spawn a million jokes by the adolescent male population, of which I am often accused of being a part of. "McCain taps Alaska Governor Sarah Palin." My desire not to have the Secret Service shut down my blog prevents me from commenting further, although she did make my list of the "Top 120 political yummy bouncies."
As hot as she is, make no mistake about it. She is tough, smart, and a solid choice for Vice President based on her ability to govern effectively. Before offering some thoughts on Governor Palin, kudos need to be given out to John McCain. I have repeatedly stated that I am "often wrong, but never in doubt." My advice to John McCain, which was never solicited or accepted, was that he go for the ultra safe choice.
My dream choice was Rudy Giuliani, but my realistic choice was Minnesota Governor Tim Pawlenty. Tall, good hair, and inoffensive…safe, boring, and not harmful. This is not John McCain. He took all of his poker chips and pushed them to the center of the table. He is now "all in."
Perhaps a guy that spent 5 1/2 years as a POW is just not going to be afraid to take risks. Sarah Palin is the epitome of a riverboat gambler choice. It also might very well work.
The minus side includes that her beauty might work against her. Women say they want to support other women, but they hate beauty queens. Sarah Palin is a former pageant girl. Of course this is not her fault, but women are a jealous bunch.
Another minus is that she does not have foreign policy experience. Then again, she has more experience than Barack Obama. Governors, unlike Senators, actually do things. That is why Senators rarely make it to the White House. She is an executive, and has actually balanced a budget. Obama is a talker. She is a doer.
Her pluses are numerous. For one, the base loves her. The base has been dispirited lately. They are elated today. This woman is so pro-NRA that the nickname of her youngest child is "Trig," as in "Trigger."
Another plus is that in a year when the republican brand is toxic due to perceptions of incompetence and corruption , Sarah Palin is a very competent executive who has rooted out corruption in her home state. She even took on republicans, filing indictments, and decimating the old boy network. She has popularity levels in the stratosphere at home. Obama is a rock star for his image. She is a rock star for her actual accomplishments.
Sarah Palin brings me one worry. When one makes their name as a corruption fighting crusader, they had better be squeaky clean. Bill Clinton was able to escape his corruption intact because people had such low expectations for him from an ethical standpoint. He could crawl over the bar. People do not mind those that engage in bad deeds. They mind sanctimoniousness and hypocrisy. Eliot Spitzer was the epitome of self righteousness, and his corruption brought him down. Sarah Palin had better have her ethical house in spotless order, because the spotlight is about to shine brightly and intensely upon her.
Sarah Palin is about shock and awe because the shock value comes in the form of her being chosen. In the age of 24 hour to the millisecond news cycle, keeping secrets is not easy to do. I walked in this morning, hit my internet button, saw the front headline, and picked my jaw off of the floor.
The awe part is that she is as inspiring from a success standpoint as she is physically beautiful. I track what words people type in to search blogs when I look at my own blog. The words "Sarah Palin" in the same sentence as some "suggestive terms" were typed in abundance. I suspect that the young male college vote is now in play. People will claim sexism, but admiring a woman for her beauty in addition to her intelligence is not sexism. Ignoring all other factors and relying solely on beauty is where the slippery erotic slope comes in. Does Sarah Palin look like the naughty librarian in those videos that every guy pretends to know nothing about? Do we want her to pull the ribbon out of the bun and let her hair flow like the Vogue cover? Of course.
Yet this is not about modeling lingerie, or about being impersonated on Saturday Night Live by the similarly sexy looking Tina Fey. It is about leading the free world. She is solidly and unapologetically conservative. She could be the next Margaret Thatcher, only (with all due respect to the deeply beloved Iron Lady) sexier.
This is not about her bottom, which some reporters tactlessly commented on. It is about the bottom line, which is cutting taxes, cutting burdensome regulation, enhancing liberty and freedom, and killing terrorists. She is a hockey mom, target shoots, and eats moose stew. She also is a devoted mother to her five children, including the youngest child that is afflicted with Downs Syndrome. For more information about Sarah Palin, several articles have been written.
http://article.nationalreview.com/?q=NWIyZDUxOGE5MGQxNWI5ZDhkYmQ2OTU0N2M2ZTI5NzA=
http://www.washingtonpost.com/wp-dyn/content/article/2008/08/29/AR2008082901112.html?hpid=topnews
http://www.realclearpolitics.com/video_log/2008/08/mccain_introduces_palin_at_day.html
http://michellemalkin.com/2008/08/29/palin-for-america-a-true-conservative/
http://hughhewitt.townhall.com/blog/g/7157b0d1-1b89-4ddf-b442-5cdc63dec2b6
Below are some of her finest comments from her introductory press conference.
"I did not get into politics to do the safe and easy things."
"We are expected to govern with integrity, and good will, and conviction."
"As the mother of one of the troops, and as the commander of Alaska's National Guard, John McCain is the kind of man I want in a Commander in Chief."
"Last 9/11, my son enlisted in the Army, and this 9/11 he heads to Iraq."
As the song "Right Now" by Van Halen played in the background, it was a jolt of fresh air to see how in only 12 hours, the news can switch from an empty speech about nothing to a call for actual leadership and service. This woman will not be afraid of dealing with Iran, Iraq, or Afghanistan. She will not be afraid of taking on republicans when they stray from conservative principles. She certainly will not fear anything as weak as a 21st century post modern liberal.
John McCain hit a home run out the ballpark. Alaska Governor Sarah Palin is our rock star, and she is solid as a rock.
A hero and an executive versus a zero and a legislative gasbag. The republican ticket is set for victory.
eric