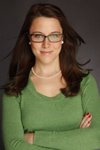 I had the pleasure recently of interviewing the stunningly brilliant and equally gorgeous republican brunette, S E Cupp. Her book is "Why you're wrong about the right."
http://red-secupp.blogspot.com/
She is not Jewish, which I shall lament for decades to come.
As with other interviews, I would first like to describe the fictional interview that did not take place. For those who would rather read the Jayson Blair Times than a real newspaper, I shall present a fictional interview, with how I would take her answers out of context to my benefit.
Below is the fictional interview.
Eric: Don't you think we should tell everybody the truth that we are happily married with 2 children?
SE: We have never met, and this interview is not off to a good start.
Eric: Sheesh, it's not like I asked you about your underclothing.
SE: I have mace and pepper spray, and am not sure which one I should use first.
Eric: I'm sorry. I guess flipping you over my shoulder and taking a nibble would be out of the question?
SE: You are either a liberal, an imbecile, a predator, or all of the above.
Eric: So in other words I have no shot?
SE: Truer words have never been spoken. I will make sure everybody knows.
I shall now present the fictional interview in the way a liberal news media outlet such as the Jayson Blair Times would.
Eric: Don't you think we should tell everybody the truth that we are happily married with 2 children?
SE: Truer words have never been spoken. I will make sure everybody knows.
With that, in the spirit of conservatism and republicanism, I now present the completely unedited, g-rated, actual interview with S E Cupp.
1) What is the S E Cupp story, and what do you want to communicate most either through your book, television appearances, or other forums?
1. SEC: "I think I'm still writing the S.E. Cupp story…at least I hope I am at only 29! But as far as the first few chapters go, I'm just the hard-working daughter of two hard-working parents who taught me to prize authenticity above superficiality. I think that's what draws me to conservative politics. My writing is devoted mostly to culture criticism — sure I focus on politics quite a bit, but not so much Congressional appointments and policy (though I do that from time to time). Mostly I write about the cultural implications of political moments…whether it's gun control, a president-elect who seems sheepish on Israel, the NASCAR voting block, or so-called "women's isues." I write about religion, sports, politics, popular culture…really very little is off my radar. I don't usually write about the Dow, for example. Although once I did write a column about consumer greed."
2) What political issues are you most passionate about?
2. SEC: "I like to write about politics as it appeals to a certain American value — whether it's self-sustainability, independence, common sense, fiscal responsibility, community, decency — but not in a saccharine or pollyanna way, but in a way that gets to the root of what makes us all human. So when I write about gun issues, for example, it's not just to lobby for greater gun rights, but to explore the reasons we want and need self-protection and self-reliance to begin with. When I wrote about Sarah Palin it wasn't just to convince people to vote for John McCain, but to explore the reasons we should want a Sarah Palin in a position of power. If it doesn't have greater cultural implications, I'm really not interested in it."
3) Who are your top 3 American political heroes of all time, and who are your top 3 political heroes on the world stage?
3. SEC: "I love Lincoln, Goldwater and Reagan, unsurprisingly. But I also loved Decatur (I'm recently kind of obsessed with the Barbary Wars.) I'm very protective of George W. Bush and Tony Blair still, and am eager to see how history writes their legacies. Condi is certainly a woman to admire, and I'm starting to really like Uribe."
4) What have we gotten right and wrong with foreign policy?
4. SEC: "Going to Iraq was absolutely the right thing to do, though we could have waged a better public relations campaign. Patriot Act initiatives were also necessary, and I'll be very disappointed when Obama loosens, changes or does away with that program. If you can call Bush's work on AIDS foreign policy, I'd generously commend him there. Aiding Israel is always the right thing to do, and brokering relations with Colombia has been one of Bush's greatest achievements. I'm very disappointed, however, in the way we've handled China, whose human rights abuses are astounding. I'm also saddened that we haven't been able to affect the turmoil in Zimbabwe and Darfur to better degrees."
5) What are your thoughts regarding the last 8 years with regards to domestic policy?
5. SEC: "Bush has dealt with social issues very well, and gets little credit for it. Whether it was taking caution in stem cell research (while still generously funding research), or erring on the side of life in the Terri Schaivo case, or letting the marriage debate happen around him (and not injecting presidential politics into an already crowded discussion), he's been a good moderator, and a defender of American values. And of course, it goes without saying that he's kept the country safe for 8 years. No small feat. But on the other hand, he has overspent. Considerably."
6) In retrospect, what are your thoughts regarding the 2008 Elections?
6. SEC: "The elections were an exciting time. There was unprecedented coverage and unprecedented activity. I'm not bitter at all about Obama's election — McCain wasn't a formidable candidate, as much as I respect him. But I am bitter about the treatment of Sarah Palin. If we can't agree that a mother of five (with one child in Iraq and one child who is disabled), a former city council woman and mayor, the first female governor of Alaska and the youngest, who worked her way up from nothing, without the help of a trust fund or family name, who put herself through school and fought tremendous obstacles, should be a person to admire, then I'm not sure who is. I understand policy disagreements, but this woman represents just the kind of leader we should be promoting and telling our kids they should want to be like. I was sickened that the far left and even worse, some elements on the right, put her in the position to have to explain her religion, apologize for her state school education, defend her family, and justify her decisions. What an embarrassing moment for us."
7) What do you think have been the most positive achievements of the Bush Presidency, and what has left you most disappointed? If you were writing the history book or the biography of the Bush Presidency, what would be its core theme? If you had 5 minutes to interview President Bush or Vice President Cheney, what would you ask them?
7. SEC: "I'd want to know how president Bush has so successfully been able to ignore the popularity contest and focus on his convictions. His commitment in the face of tremendous opposition has been remarkable, but I imagine it occurred with a cost. I'd want to know what that was. As for Cheney, I'd want to know where he was hunting next."
8.) You, S E Cupp, are President on January 20th, 2009. What are the first three things you do? What is your hundred day plan?
8. SEC: "There's no way I could answer these questions. I'd make a horrible president, not because I'm unqualified (though I am) but because what I want in a president are not the attributes I currently possess."
9) What are the main positive and negative contributions to society that the blogosphere has brought us? What can be done, if anything, to as the song says, accentuate the positive and eliminate the negative?
9. SEC: "The blogosphere, like YouTube and reality television, have made it seem like anyone can be famous. Anyone can be an investigative journalist. Anyone can break news, and bring down a governor. That's good and bad. The great blogs are the ones that still adhere to traditional journalistic ethics and values. The dangerous blogs are the ones that pretend those very ethics are out of fashion, or no longer relevant. As for blogs not trying to be news vehicles, continue forth…if your thoughts are interesting enough, the page views will follow."
10) What do you want people to know most about S E Cupp the person? What do you want most out of this world? What do you want people to remember about you 100 years from now?
10. SEC: "I can't really control what people think of SE Cupp. My opinions are out there, and I stand by them. For now. I'm not so much worried about what people think of me…I'm more interested in prompting self-reflection in others."
I would like to thank S E Cupp for her genial nature, intelligent outlook, and overall delightful disposition. The future of conservatism requires young blood to carry the conservative torch. S E Cupp is well positioned to be an articulate and effective spokesperson for what will advance conservatism, and improve our overall culture. Conservatives and society at large will benefit from this.
I wish S E Cupp well always, and am glad she is speaking out.
eric