All,
My book, Ideological Bigotry, is now in stores and available for purchase.
Ideological Bigotry is the hatred of people based on their political views. It is just as harmful as racial or ethnic bigotry, but gets less attention.
The book can be purchased through Amazon, Barnes and Noble, or through iUniverse.
http://www.iuniverse.com/Bookstore/BookDetail.aspx?BookId=SKU-000119573 freechatrooms
http://search.barnesandnoble.com/Ideological-Bigotry/Eric-Aka-The-Tygrrrr-Express/e/9781440133909/?itm=2
http://www.amazon.com/Ideological-Bigotry-Politically-Conservative-Left-Wing/dp/1440133905/ref=sr_1_2?ie=UTF8&s=books&qid=1238917332&sr=8-2
Below is the picture of the hard cover copy.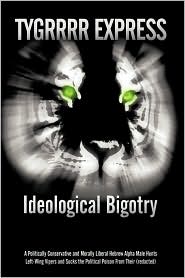 For legal reasons, I had to use a picture different than the one on my blog. Simply put, after much searching, I cannot find out who owns the rights to that picture.
Below are a couple of testimonials that will be found on the back cover.
"Many will find this reading highly charged, and most controversial. But hey, that's what we have come to expect from Eric aka The Tygrrrr Express!"
Radio Host Armstrong Williams
"You don't have to be a political 'conservative' or agree with every word in this book to appreciate Ideological Bigotry. In a society that professes to value tolerance and dissent, America has become infested with bigots who taunt, intimidate and even hate those who dare to disagree with them. Eric exposes this evil in a witty and insightful manner that makes for very delightful reading. Unlike many who beat you over the head about this problem, his wit and sense of ridicule are a welcome relief. A great read!"
Ward Connerly—Chairman, American Civil Rights Institute
I am described as "politically conservative, morally liberal, and completely off kilter."
If you would like me to come to your city to do a book signing, then invite me! I am arranging a book tour as we speak.
I am also available for television and radio interviews.
I had no say in the price of the book. As for free copies, please understand that if I gave the book away, this would not be a successful business venture!
I will be autographing copies of the hard cover version.
My goal is to visit all 50 states, so at some point, your hard cover book WILL be autographed.
If I left you out of the acknowledgments, again, don't resort to verbal violence. Every person that I have ever corresponded with through the Tygrrrr Express has made it a special place.
After you have purchased the book, please let me know that you did so.
Lastly, just know that while I am the person who wrote the book, and writes the blog, every single one of you is what makes it worth while.
Thank you very much.
Now please go buy my book!
eric aka the Tygrrrr Express